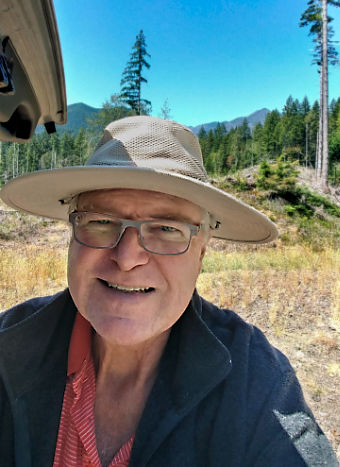 Self Portrait Sumi ink and gouache
on paper, 30" X 22", 2009
Artist Notes
Thick foliage and steep hills, dark silhouettes of buildings and nature against the illuminated sky. This is what interests me about the Northwest landscape. I begin picture making on location, outdoors. No camera for assistance, just a sketchbook to note colors. I create black over lapping shapes on white paper in black ink. The dark edges of these shapes are critical to my paintings. Later in the studio I define the interior shapes that I have painted, using color. I create my canvas paintings from these paper paintings and notes.
When I look at nature I see water as a separate element from land and I paint it as a reflection of the sky. The sun is a spotlight shining on nature creating shadows and color. Even in summer months, dark shadows prevail in the Northwest. In the diffused light of a cloud filled day colors compliment other colors layered upon the black surface.
In my paintings objects can dissolve into other objects and the mind creates the completion of the intended picture. I prefer an uneven, painted surface with the black under painting showing through the color. I would like my artwork to speak of a moment in time and the space it was created in.